A committed and integrated team of compassionate mental health and educational experts
Founding of Cornerstone
The founding of Cornerstone Day School in 2006 by Allan J. Blau, Ed.D., LCSW, and David Nyman, Ph.D., was the result of a collaboration of experts from the fields of both special education and structured psychiatric programming. Drs. Blau and Nyman joined forces in 2004 to start the planning of Cornerstone and the creation of The Cornerstone Experience. With their combined expertise and reputations for excellence, they began with a study of therapeutic school models across the United States and took aspects from a number of them to create the one that makes Cornerstone such a unique and innovative school.
Dr. Blau has been a leader in the field of special education for over 40 years. Educator, clinician and administrator, Dr. Blau has designed and founded numerous schools and programs for special needs children throughout the tri-state region. For many years, Dr. Blau was also the president of the National Independent Private School Association for whom he currently functions as the vice-president in charge of clinical certifications of therapeutic schools and programs. Today, Dr. Blau continues as the Founding Director at Cornerstone.
Dr. Nyman, trained as a clinical psychologist and an expert in the development and management of structured therapeutic programs, has devoted his career to creating innovative models of clinical treatment programming for both children and adults. For eighteen years, ending in 2012, he was the Executive Director of High Focus Centers (HFC). Under his leadership, HFC became the most prominent treatment delivery system in New Jersey, with extensive services for adolescents with major psychiatric and/or substance abuse problems. Dr. Nyman also led the development of Effective School Solutions, a pioneering organization founded by him with Dr. Blau, that provides mental health and related services for students at risk in many public school districts in New Jersey, Connecticut and Pennsylvania.
School Leadership
Leonore Johnston, Executive Director
Ms. Leonore Johnston has devoted her life-long year career to special education in various roles as an educational leader, trainer and educational innovator. Before joining Cornerstone Day School, Ms. Johnston spent many years as the Director of Special Services in the Hillsborough School district in Somerset County and brings first-hand knowledge of the needs of professionals, students and families.
Her many certifications include Speech/Language Specialist, Teacher of the Handicapped, Learning Disability-Teacher Consultant, Supervisor, Principal and Chief School Administrator.
In addition, Ms. Johnston was an adjunct instructor on both the undergraduate and graduate level for fourteen years at The College of New Jersey, for Language-Literacy and the Special Education Department. She has also instructed for NJ EXCEL, a program for individuals seeking certification in educational leadership, as a supervisor or principal. Ms. Johnston has taught internationally, teaching graduate level coursework in Lisbon, Portugal at the Frank Carlucci American International School for The College of New Jersey.
Gregg Weisman, Principal
Gregg Weisman has been Principal at Cornerstone Day School since 2007. Mr. Weisman has worked with adolescents in need of both emotional and behavioral support as a teacher and an administrator in both the public and private sectors. Just prior to joining Cornerstone, Mr. Weisman was the principal of an alternative high school program for at-risk youth in a large N.J. public school district. Mr. Weisman holds two masters degrees from NJCU, in Special Education and Educational Leadership.
Dr. Bryan Fennelly, Medical Director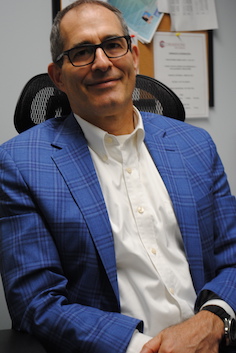 Dr. Bryan Fennelly is a certified in Child, Adolescent and Adult Psychiatrist who has been with Cornerstone Day School for eight years and now serves as the Medical Director. He attended and graduated from Dartmouth College, and Rutgers New Jersey University Medical School where he received his medical degree. While at Rutgers, Dr. Fennelly received an award for compassion in patient care. He completed his adult and child and adolescent psychiatry training at New York University where he served as a faculty member and attending physician in the Comprehensive Psychiatric Emergency Program. He was instrumental in starting the Children's Crisis and Intervention Service at Newark Beth Israel.
Currently in addition to Cornerstone, Dr Fennelly is a staff member at Morristown Medical Center in the Department of Psychiatry, is in private practice treating all ages and serves as a consultant to public schools in matters of child mental health and special education. Over his 25 year career, Dr. Fennelly has also functioned as forensic expert in cases involving children.
Jennifer Hayes, Director of Enrollment
Jennifer Hayes is the Director of Enrollment at Cornerstone Day School. She has experience working in multiple settings on the mental health treatment continuum, including outpatient, partial, psychiatric emergency and residential. Prior to joining CDS, she was the Director of Outpatient Mental Health Services at a large hospital in an urban setting. Jennifer received her Master's degree from NYU and has received post-graduate training in family systems and TF-CBT. During her tenure at Cornerstone, she has authored the specialized school avoidance protocols, expanded its programming and has led the development of Pathways, Cornerstone's unique program for these students.
Sarah Coiro, Chief of Clinical Services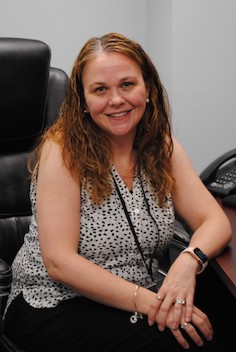 Sarah Coiro is the Chief of Clinical Services and has been at Cornerstone Day School since 2007 when she began in her role as Clinician. She has experience working in multiple settings on the mental health treatment continuum, including outpatient, inpatient and residential, specializing in the treatment of children/adolescents and their families. Prior to joining CDS, she was a Clinician on an inpatient psychiatric unit for children and adolescents. Sarah received her Master of Arts in Applied Clinical Psychology from William Paterson University and has received post-graduate intensive training in DBT. Her nurturing but firm approach is relationship-centered which provides the foundation for trust with students and families. Sarah believes in working with families and the staff to provide a team approach in providing the best possible treatment for our students and helping them to achieve their goals.
Letter from Our Staff
Dear Parents and Colleagues:
Cornerstone is a unique school that is making a difference for so many students and their families. Students enrolling in Cornerstone have experienced major life difficulties and come to us with negative experiences of school. We take great pride in providing our students with a new school experience, one that can make them excited about school and renew their confidence and hope for the future.
For many of our staff, the highlight of our year takes place on the Tuesday before Thanksgiving. On that day, we have a family dinner and invite everyone, both students and staff, to speak about something for which they are grateful. The number of students who talk about being a part of the Cornerstone family never ceases to move us. We can honestly tell you that day alone makes all of the hard work we do during the course of the year well worth it. We welcome your interest in our school. Please come visit us and see for yourself why Cornerstone is so special.
Sincerely,
The Staff at Cornerstone
Publications
Cornerstone's publications provide support and education for both Parents and School Professionals
Parents Matter
Guiding parents to better help their children
| | | | |
| --- | --- | --- | --- |
| December 2022 | October 2022 | April 2022 | February 2022 |
Trends
Research and its applications for school professionals
| | | | |
| --- | --- | --- | --- |
| November 2022 | March 2022 | February 2022 | December 2021 |
Around The Corner
Our school newsletter for parents (not available online to protect the privacy of our students)
| | | | |
| --- | --- | --- | --- |
| Nov/Dec 2022 | Sept/Oct 2022 | | |
Cornerstone
A newsletter for school professionals (not available online to protect the privacy of our students)
| | | | |
| --- | --- | --- | --- |
| Winter 2023 | Fall 2022 | Spring 2022 | Winter 2022 |