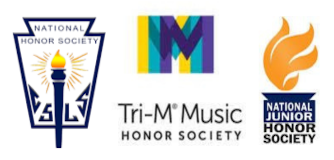 Cornerstone has a long-standing protocol since opening to provide quality academics within a dynamic school setting. We have always followed state academic standards, currently the NJSLS. Cornerstone offers college prep and honors level classes through the high school schedule.
We're incredibly proud this standard has allowed us to join as a chapter of the National Honor Society in both the middle and high school programs.
The National Honor Society and the National Junior Honor Society are prestigious organizations that recognize and celebrate students here at Cornerstone who have demonstrated outstanding achievements in scholarship, leadership, service, and character. Being a member of the NHS and NJHS is an acknowledgment of academic excellence and a commitment to positively impacting the community. Our students inducted into these organizations are expected to embody the values of integrity, responsibility, and a dedication to serving others. Participation in NHS and NJHS reflects a student's holistic commitment to personal and academic growth.
Recently, we have become a chapter for Tri-M, a music honor society through the National Association for Music Education. Tri-M is based on musicianship, academic achievement, leadership, service, and character. Tri-M highlights the school's music program, helps students grow in innumerable ways, and brightens their college applications. After completing one semester of music class, students who meet the academic criteria may apply to become a part of Tri-M. As a group, they will serve others, lead with pride, and maintain excellent academic standing.
Students inducted to Tri-M will volunteer around the community, using their talent to entertain the elderly singing at local nursing homes. This allows students to mix two core values: musicianship and service. Additionally, Tri-M students will have many opportunities to volunteer at the local food bank and serve the community.
We are very excited to have our students be part of NHS and TR-M. The values of both these groups align with the Cornerstone mission and vision and contribute to the Cornerstone experience, which is at the core of our work at the school.